A $5 Donation Processes 8 Meals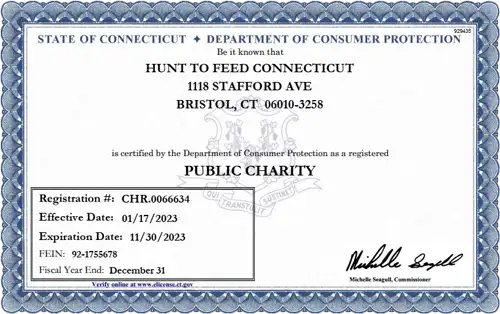 Your contribution to Hunt To Feed is greatly appreciated! Thank you for supporting us on our mission to donate venison to Connecticut's hungry residents.
If you would like to support Hunt To Feed further, please sign up for our newsletter.
Food insecurity is the lack of access by all people at all times to enough food for an active, healthy lifestyle. 24% of households in the U.S. cannot afford to eat daily balanced meals. With more than 364,000 people, including children, facing food insecurity in Connecticut, food insecurity is considered a growing health crisis.
63% of food insecure households choose between rent or food.
10.2% of all Connecticut Residents Are Food Insecure
Meals in Connecticut are 11% more expensive compared to the national average.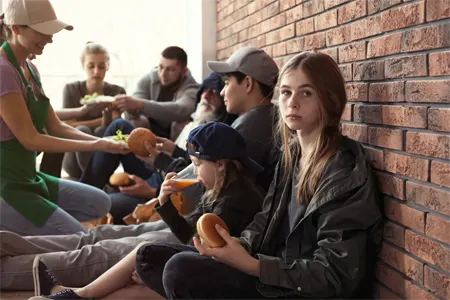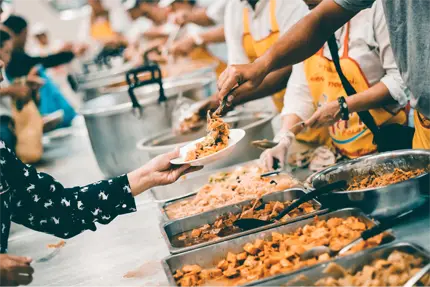 Over 34 million people in the United States are food insecure
18.4% of all low-income homes are food insecure
1 in 10 Connecticut residents face hunger
24% of all US homes cannot afford to eat daily balanced meals

Questions about participating with Hunt To Feed? Learn more about the program below or reach out directly to HuntToFeed@Gmail.com for additional insight and answers.
What is Hunt To Feed
Hunt To Feed aligns Connecticut's deer hunters with local butchers & meat processors where venison can be safely prepared as a donation for foodbanks, soup kitchens, and shelters. All deer donated through Hunt To Feed help feed Connecticut families who struggle with food insecurity and hunger.
When can I donate deer?
We primarily accept deer during Connecticut's hunting season from September 15th until January 31st. If you have a crop damage permit and would like to donate deer outside of season, please arrange a drop off by contacting Wes at HuntToFeed@Gmail.com.
How many people can one deer feed?
One deer provides up to 160 venison-rich meals.
How Much Does It Cost To Particpate
There is no cost to a hunter for donating deer with Hunt To Feed. All fundraising, donations, and sponsorships pay for venison processing to ensure you pay nothing.
I can't donate deer, can I still participate?
Yes, we are currently accepting monetary donations and sponsors for the 2023 hunting season. Thank you for your consideration!

Subscribe to our Newsletter