Together We Can Feed the Hungry

Participating in Hunt To Feed is easy and you don't even need to be a hunter. To achieve our missions, we provide hunters with free venison processing for each deer donated. We keep venison processing free thanks to local partners, monetary donations, and sponsorships. No matter if you are donating venison or sponsoring an event, all contributions are turned into meals for Connecticut families who struggle with food insecurity and hunger.

When you donate deer with Hunt To Feed, you are providing up to 160 meals for Connecticut's hungry residents! We pay for all processing costs associated with your donated venison. To earn your participation we strive to make donating your harvest easy as possible. All you have to do is…
Harvest and tag a Connecticut deer
Prepare deer for your processor of choice
Donate full deer or boneless meat at your preferred processing partner
Click the link below to find your nearest processing partner and to learn more.

Monetary donations and fundraising efforts are spent on venison processing fees. In order to supply our charity partners with ready-to-eat meat, all meat must be safely and sanitarily processed by local butchers.
On average, we pay $1.75 per pound of processed meat. For every $5 donation, Hunt To Feed is able to process up to 8 meals.
Click the link below to donate and learn more about hunger in Connecticut.

It takes a community to feed a community. The combined efforts of local meat processors and local charities make our purpose possible. Hunt To Feed works closely with the following partners to fulfill our mission…
Meat Processors
Our growing list of partners includes…
Local Charities
Our primary venison recipient for 2023-24 will be Foodshare. Foodshare is Connecticut's largest food bank with access to thousands of Connecticut residents in need of food. Their large network and ability to pick up prepared venison directly from our processing partners makes Foodshare an ideal partner.

In order to keep venison processing free for all hunters, we are interested in teaming up with sponsors for fundraising and educational opportunities related to hunger, outdoorsmanship, environmental conservation, and related outreach. Fundraising and educational sponsorship opportunities may include events such as…
Click the link below to learn how your sponsorship and support can help feed Connecticut's hungry.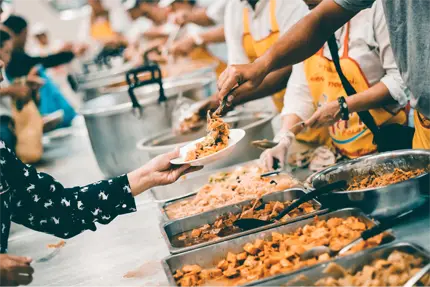 Over 34 million people in the United States are food insecure
Over 364,000 people face hunger in connecticut
18.4% of all low-income homes are food insecure
1 in 10 Connecticut residents face hunger
24% of all US homes cannot afford to eat daily balanced meals

Questions about participating with Hunt To Feed? Learn more about the program below or reach out directly to HuntToFeed@Gmail.com for additional insight and answers.
What is Hunt To Feed
Hunt To Feed is a vension donation non-profit program.
We connect Connecticut's deer hunters with local butchers & meat processors where venison can be safely prepared as a donation for foodbanks, soup kitchens, and shelters. All deer donated through Hunt To Feed help feed Connecticut families who struggle with food insecurity and hunger.
When can I donate deer?
We primarily accept deer during Connecticut's hunting season from September 15th until January 31st. If you have a crop damage permit and would like to donate deer outside of hunting season, please arrange a drop off by contacting Wes at HuntToFeed@Gmail.com.
How many people can one deer feed?
One deer provides up to 160 venison-rich meals.
How Much Does It Cost To Particpate
There is no cost to a hunter for donating venison with Hunt To Feed. All venison processing is paid for by Hunt To Feed through fundraising, donations, and sponsorships.
I can't donate deer, can I still participate?
Yes, we are currently accepting monetary donations and program sponsors for the 2023 hunting season. Thank you for your consideration!

Subscribe to our Newsletter